Downtown Fort Lauderdale Countdown New Year's Eve
---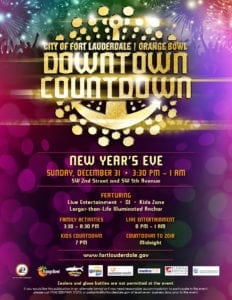 The City of Fort Lauderdale is gearing up for the Fort Lauderdale Orange Bowl Downtown Countdown, the annual premier New Year's Eve celebration. Touted as one of the largest New Year's Eve celebrations in Florida, this year's free street festival is full of fun and excitement for both children and adults. Revelers will crowd downtown Fort Lauderdale on Sunday, December 31 from 3:30 p.m. to 1 a.m. along S.W. 2nd Street between S.W. 2nd and S.W. 5th Avenues to wait with anticipation for the midnight countdown.
The spectacular celebration will feature a variety of activities for the whole family, including bounce houses/inflatables, face painting and games, contests and line dancing with the DJ, as well as an early ball lighting countdown at 7pm for those unable to stay until midnight.
Event Highlights
3:30 to 8:30 p.m. — Family Fun Zone
3:30 to 8:30 p.m.  Inflatables, face painting, DJ with music, games & contests
6:00 to 8:00 p.m.  Special appearance by OBIE, the Orange Bowl Mascot
7:00 to 7:30 p.m.  Line dancing
7:00 p.m. — Kids Countdown to illuminate anchor
7:45 p.m. — Live music on the main stage
7:45 to 9:00 p.m. Orquesta Calle Sol
9:30 p.m. to 1:00 a.m. Shane Duncan Band
T minus 15 minutes (11:45 p.m.): Find last minute ball drop watch positions
Revelers should make their way toward the main stage for the midnight ball drop – it will be elbow room only.
T minus 1 minute 10 seconds (11:58:50 p.m.): Countdown begins
City officials will count down the final seconds of 2016 out and usher in 2017 as the Downtown Countdown illuminated Anchor descends from the sky.
Midnight: Welcome 2018!
A five-minute pyrotechnic display will brilliantly illuminate the sky above Downtown Fort Lauderdale. Bursts of custom-mixed colors light up the night sky as confetti descends on partygoers. And the band plays on…
PARKING OPTIONS
Below is a list of parking locations in downtown Fort Lauderdale conveniently located near the event site.
City Park Garage
150 SE 2nd Street
Broward Governmental Garage
151 SW 2nd Street
County Lot II
100 SW 1st Avenue
Riverfront Garage
305 S Andrews Avenue
Riverhouse Lot
220 SW 3rd Avenue
200 Las Olas Circle Garage
200 SW 1st Avenue